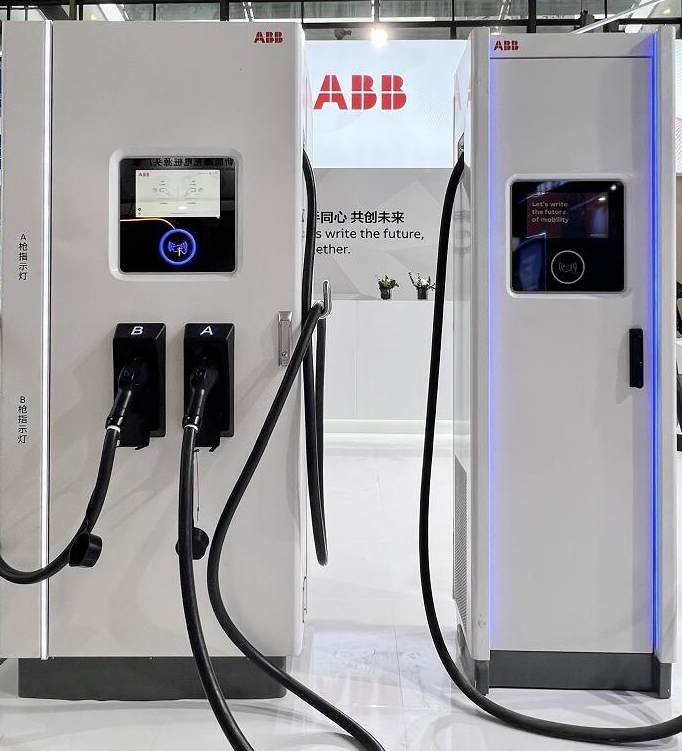 It comprehensively displays advanced product technologies and charging solutions in the fields of liquid-cooled overcharging, AC and DC charging, ordered charging and V2F energy
interconnection.

Promote the new development of smart transportation with safe, intelligent and reliable charging solutions
On September 8, as World Electric Vehicle Day is approaching, ABB Electric Transportation will bring its advanced product technologies and charging solutions in the fields of DC charging,
AC charging,
orderly charging and V2F energy interconnection to the 6th Shenzhen International Charging Shenzhen Charging and Swapping Station Exhibition (Shenzhen Charging and Swapping Exhi
bition CPSE)
helps the smart transportation revolution with safe, intelligent and reliable charging solutions.
In recent years, with the vigorous development of the new energy vehicle industry, charging infrastructure construction has continued to upgrade, becoming an important force in promoti
ng the constr
uction of a transportation power and the development of green transportation. As an important communication platform in the field of battery charging and swapping, the Shenzhen Char
ging and Swa
pping Exhibition takes "new products, new technologies, and new brands" as its theme to promote the construction of charging and swapping infrastructure, optimize the charging and sw
apping facility
system, and promote the development of the new energy vehicle industry. Presenting the full chain resource advantages and future development direction in the field of charging infrastru
cture.
ABB Electric Mobility continues to expand its technological boundaries with its outstanding technical expertise, rich industry experience and in-depth insights into the field of charging infr
astructure. Its
charging solutions cover a variety of application scenarios from household to commercial, including residential areas, public buildings, industrial parks and dedicated operating sites. The p
roducts inclu
de low-power AC charging piles from 7-21kW, DC charging piles from 60-240kW, The orderly charging system and the 360/480kW high-power liquid-cooled supercharging system take into
account the current and future-oriented diversified charging needs and accelerate the realization of the goal of transportation carbon neutrality.
High-power fast charging, the future has arrived
With the rapid development of charging technology, "making charging as fast as refueling" is no longer a new concept. ABB TERRA CA smart DC charging pile combines dual charging and o
vercharging
charging modes, as well as a wide range of constant power voltage and high current functions, and can charge two electric vehicles at the same time. The maximum output of the dual-gun
of this prod
uct is 500A, and the empowerment efficiency is about 25% higher than that of ordinary charging piles. It can effectively cope with the current situation of diversified charging rate and voltage
requirem
ents, and can meet the needs of electric taxi/online car-hailing, electric logistics vehicles, electric buses, etc. Different types of vehicles have different voltage requirements, providing charging
operators
with safe, convenient, efficient and economical charging services.
ABB's 480kW high-power liquid-cooled supercharging system has a peak output current of up to 650A and is compatible with future new models of high-voltage platforms of 800V and above,
achievin
g a range of 200 kilometers in 5 minutes of charging. In addition to the speed advantage, this product is also very flexible and convenient to use. At the same time as the ergonomic cable man
agement
system, the super charging pile reduces the weight of the terminal gun wire by using liquid cooling technology. The diameter of the gun wire is 28mm, helping car owners to easily and quickly
Plug and
unplug the charging gun.
Flexible, flexible energy management
Today, vehicle-to-grid (V2G) technology has evolved into more application scenarios, such as the promotion of vehicle-to-factory smart microgrid V2F (Vehicle-to-Factory), which has brought
more flex
ibility, stability, and economic benefits to factories. A more prominent new model of electricity consumption. ABB charging solutions can effectively support the application of V2F technology,
allowing
factories or fleets to support the power grid during peak demand periods, allowing buildings or equipment to use green energy stored in vehicle batteries, and integrating charging and disch
arging sc
enarios between vehicles and factory-side smart microgrids. The combination opens up new possibilities for energy trading and smart energy management.
Smart and sustainable operating ecology
Charging stations in the future will no longer be simple charging places, but advanced energy stations that integrate photovoltaics, energy storage, charging and discharging and other functio
ns to be
tter meet the needs of users. In the "Powered by ABB" concept station, the energy conversion scenario of photovoltaic plus energy storage plus charging will become the first choice. Orderly
charging
and V2G technology will further help stations save energy and reduce emissions, feed back to the power grid, and achieve efficient use of energy. The "Powered by ABB" charging concept stat
ion not
only promotes the sustainable development of transportation, but also emphasizes people-oriented and user-centered needs. The service scope of the station extends from charging to loung
es, resta
urants, AED rescue, etc., to meet the needs of The diversified needs of users in charging scenarios promote a bright future of sustainable development.
As a global leader in electric vehicles and charging infrastructure, ABB Electric Mobility is committed to building a zero-emission future with smart, reliable and zero-emission charging solutio
ns. It has
now delivered more than 100 electric vehicles in 85 countries and regions, including China. Thousands of charging stations.
ABB (ABBN: SIX Swiss Ex) is a technology leader in the electrical and automation fields, committed to enabling a more sustainable and efficient future. ABB integrates engineering experience
and softw
are technology into solutions to optimize manufacturing, transportation, energy and operations. Adhering to more than 130 years of excellence, ABB's approximately 105,000 employees arou
nd the w
orld are working hard to promote innovation and accelerate industrial transformation. ABB has a full range of business activities in China including R&D, manufacturing, sales and engineering
services.
It has 27 local companies and 15,000 employees located in more than 130 cities. Its online and offline channels cover about 700 cities across the country.